School principal - Snezana Simeonov
Born on April 7, 1957 in Dimitrovgrad. She completed her elementary school and high school education in her hometown, and studied Bulgarian language and literature at Kliment Ohridski University in Sofia and graduated in 1982. The diploma of higher education is recognized at the Faculty of Philology in Belgrade. Authorized by the Minister of Justice of the Republic of Serbia, she is a permanent court interpreter for the Bulgarian language, for the district court of Pirot.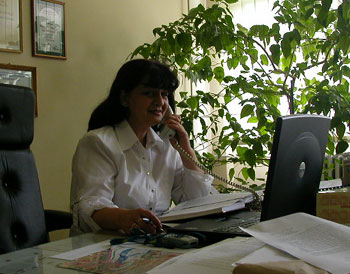 Snezana Simeonov
In addition to her regular duties, the school principal works to promote literary talents. She follows the work of young talents at all events and competitions. For two years of work several students have already published their poems and stories in several collections: Belgrade 2005 - the works of 4 of our students have been published, Zitiste - 2 books (2004 and 2005), Aleksinac (2004 and 2005), Veliki Drenovac (2004 and 2005). Besides the newspaper Most, she also collaborates with the Plamak and Puls newspapers in Sofia, which have already published the works of our students.
Two years ago, she founded the Creative Team at the school, which opened the door to all talent. One part of the team launched the bilingual tabloid newspaper Karpe diem in order to continue the former tradition of the school. The promotion of the newspaper was made on January 27, 2004, on St. Sava Day.